Membership of Industry Associations and Trade Bodies
A.B. Exports (Pvt) Ltd is an active member of the following industry Associations and trade bodies:
Pakistan Hosiery Manufacturers & Exporters Association (PHMA)
Pakistan Textile Exporters Association (PTEA)
Faisalabad Chamber of Commerce and Industry (FCCI)
All Pakistan Textiles Processing Mills Association (APTPMA)
The Company has had a tremendous growth in terms of sales during the past decade. During the past 6 years, our sales have grown at an average rate of 40% on year on year basis. The company outperformed its competitors and has become a leading name in the export of textile goods from Pakistan.
We have taken ISO 9000 certification as a first step towards Total Quality Management (TQM). The Implementation of TQM has been executed at all plants. The company has also obtained Oeko- Tex standard for its fabric and overall factory, which shows company's commitment with strict testing and inspection procedures.
Achieved Highest Export Award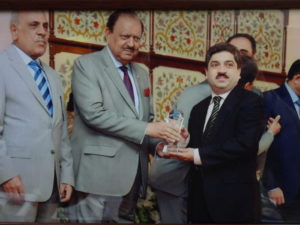 A.B Exports (Pvt) Ltd has received the highest export award- Gold of the year 2013-2014. On 29th November 2015, President Mamnoon Hussain handed over the trophy to the Chairman of A.B. Exports (PVT) Ltd Mr. Muhammad Ahmad at a ceremony jointly organized by the Faisalabad Chamber of Commerce and Industry (FCCI) and the Commerce of Ministry.